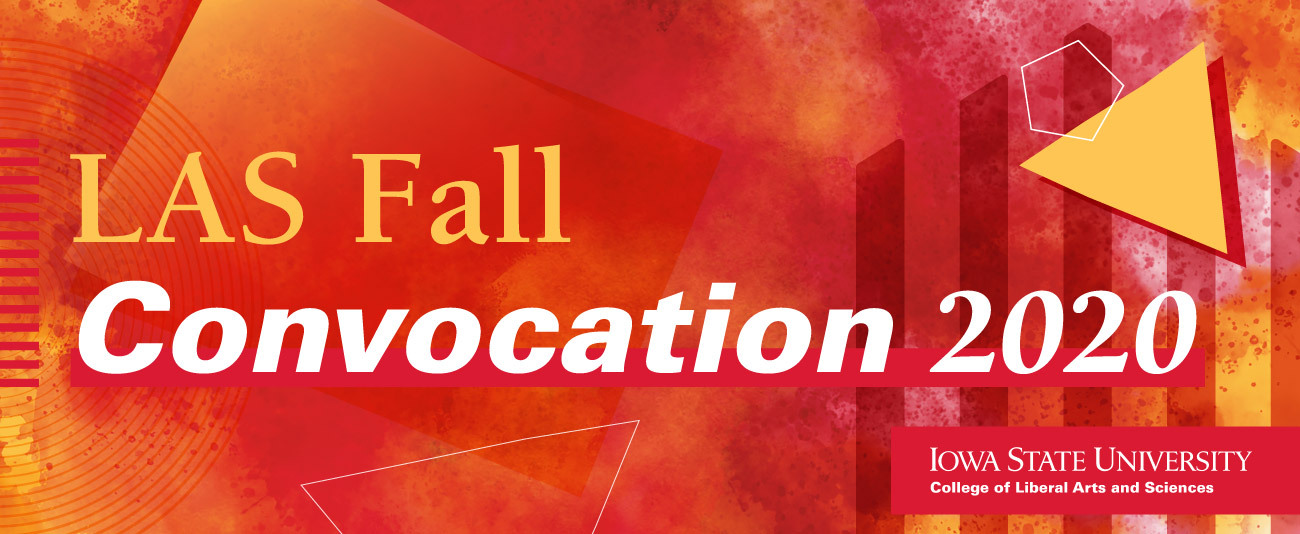 Click on the video below to view our Convocation video with messages from our Dean, student marshal and special guests!
GRADUATES: Be sure to check out the messages from departments, graduate list, convocation program and other social media content!
Watch the video and interact with LAS faculty, friends and relatives by clicking on this link.
Virtual Convocation Program
Convocation Ceremony
Opening Music: Tin-Shi Tam
Charles T. and Ivadelle Cobb Cownie Professor of Music Carillonneur
Welcome: Beate Schmittmann, Dean
Student Address: Sarah Bartlett
Graduating Senior, Anthropology and Political Science
Presentation of the Candidates: Amy Slagell, Associate Dean
Career Services Remarks:
Taren Reker, Director of LAS Career Services
Alumni Relations Remarks:
Robyn Goldy, Alumni Relations Coordinator
The Bells of Iowa State
Olivia Gasper, Vocalist,Senior, Music
Michael Banwarth, Pianist, Senior, Music
---

---
Congratulations, Graduates!
Psyclones are the best! Stay well, and stay in touch!
Dr. Susan Cross, Chair, Department of Psychology
Congratulations to our graduating ComSt Students! I have so enjoyed getting to know all of you and wish you all the best for your futures!
Racheal Ruble
Well done, graduates. In this very difficult time you have persevered and achieved a huge milestone. Congrats!
Nathaniel Wade (Psychology)
Congratulations Caitlyn O'Conner!
Dr. Monica Marsee
Congratulations Anna Dinsmore!
Dr. Monica Marsee
Congratulations Reagan Brackey! Your work ethic is wonderful and your attitude is awesome! It was a pleasure working with you. Godspeed on the next stage of your journey!

Congratulations to all of the LAS graduates this semester! Special shoutout to the Physics and Astronomy graduates!
Kaylee Wellik P&A Grad Secretary
Congratulations on your BA Cameron! You did it!
Travis
We love you so much Cameron I am so very proud of you and your accomplishments!
Love Brian and Jana
We are so proud of you Hausten. The journey has not always been easy but you've persevered and succeeded. Congratulations!
Mod, Dad and Hayden
Cameron Jones, congratulations on this huge accomplishment and major milestone in your life. You've worked very hard to get to this point in spite of the obstacles incurred this year due to the pandemic. This is your special day and enjoy every minute of it. I couldn't be more proud of you. Congratulations! Love you so very much
Sandy Holliday, your "mother-in-law"
CONGRATS CAMERON GARFIELD JONES!!!!!!!
Raechel Hannam
Congratulations Class of 2020 you did it!!!
Kelly Ayers
A very weird time to graduate in this world, but a time to make your mark on our "new normal". Do something to better our world, and make us all proud. My brother shows me this everyday by being the first to earn a 4 year degree in our family. Congrats to him and you all!!
Breena Meineke
Congratulations Anna Dinsmore, so very proud of you and all of your hard work and dedication!
Love you! Mom and Dad
Biological/Pre-Medical Illustration wishes Mica Post and Kanghee Yoon warm congratulations and the very best in their future endeavors. Stay curious and keep drawing!
BPMI Faculty and Staff
Congratulations Graduates of the Women's and Gender Studies Program! Be grateful for all that you have accomplished at ISU!! Good luck and keep in touch!
Faculty and Staff of the Women's and Gender Studies Program
Congratulations Cameron Jones! Its been a long road to get here but you persevered! So proud of your accomplishment!
Nancy and Jeff Goecke
Congratulations to our World Languages & Cultures and Anthropology graduating seniors! We're so proud of you and excited to see what you accomplish next!!!
Alissa & Flor
Congratulations Tessa Logan!
Dave and Rose Logan
Wishing you the very best as you continue your journey! Thank you for sharing part of it with us!
Chad Cardani-Trollinger, PhD, Leadership Studies
Congratulations to our Criminal Justice Graduates! Best wishes for a bright future!
Department of Sociology
Congratulations to our Sociology Graduates! You have a bright future ahead!
Department of Sociology
Congratulations, graduates! If you can survive this challenging time, you can do anything!
Prof. Stacy Cordery, History
Can't wait to see what the future holds for you, Sarah Bartlett. Congratulations!
Susan McNicholl
Congratulations to all of our graduating COMST seniors!
Dr. Tye-Williams
Kacey Berry, I'm looking forward to hearing about your next adventure with Americorps! Congratuations!
Susan McNicholl
Congratulations and best wishes to our BS graduates in Statistics. We are proud of your accomplishments so far and can't wait to see what the future has in store for you all. Good luck!
Undergraduate program – Department of Statistics
History Graduates, Having learned about the past, go out and make history!

Congratulations on your graduation!
Gary Sawyer
ongratulations to all our Phi Beta Kappa members. May your careers be as rewarding as your academic careers at Iowa State.
Peter Orazem
LAS Graduates: You're graduating an unprecedented situation. I encourage you to draw on the skills and knowledge you've gained during your time at Iowa State to face any challenges you encounter with insight and integrity. Wishing you all the best!
Prof. Sarah Dees (Religious Studies)
Congratulations class of 2020! Congratulations to your family. We are all proud of you and look forward to hearing from you as alumni. Warmest wishes!
Michael Gens
Congratulations to all our economics graduates. Thank you for being part of our department. Hope to see you again when you come back to campus.
Peter Orazem
Congratulations, Julie Ntegeye! Good luck with your future endeavors!
Elizabeth Zimmerman
Congratulations, Emma Flemming! Good luck in all your future plans!
Elizabeth Zimmerman
Congratulations, Kacey Berry! All the best luck with your future goals and plans!
Elizabeth Zimmerman
Congratulations grads! Journalism grads – show us everything professional journalists offer to the world!!
Amy Juhnke
The Leadership Studies Program wishes all of our graduates a heartfelt congratulations on this wonderful achievement. We wish you all the best as you enter the world ready to tackle any challenge. You are ready!
Leadership Studies Program
On behalf of the Environmental Science faculty, staff, and graduate assistants I offer congratulations and best wishes. There are many opportunties for environmental scientists to make a difference, and I know we will be hearing great things about you!
Richard Williams, Program Coordinator for Environmental Programs
Congratulations Kevin Greene on your Meteorology degree! We've enjoyed having you in our classes, and encourage you to stop by to visit us whenever you are back in town.
Bill Gallus
Congratulations to our Data Science Graduates, Jay Maxwell and Alex Thompson! We are proud of you!
Data Science Program
As your adventure at ISU winds down, I know it has provided you with an awesome foundation for the many adventures and successes that are waiting for you!
Judy Ralston-Hansen
Congratulations to our Fall 2020 graduates! You have persevered and it's time to start your new adventure!
Liese VanderBroek, Computer Science Undergraduate Secretary
We are so proud of you, Joshua Grant, for all you have accomplished at ISU. You have represented the university so well in so many ways. Congratulations!!!
Dad, Mom and Zach
Congratulations LAS international students on your graduation! Wishing you all the best in your next adventures.

Suzanne Harle, LAS International Network
Congratulations to all graduates – Best wishes and best of luck on your next adventures!
Biology and Genetics Program
Congraulations Raquel Holt!! So proud of who you are and what you have accomplished! Love ya!
Mom and Dad
Congratulations, Biology graduates! We are so proud of you!!
Lauren Ramos
Sarah, I'm so excited to see what you do in the future. Congratulations and keep in touch!
Peggy
ongratulations to my brother Cameron Jones! I am so proud of you and a waits for you! You make me proud to be your big sister! Wish we could be there with you.
Jane Lawrence
Cameron Jones. Great job brother! I love you!